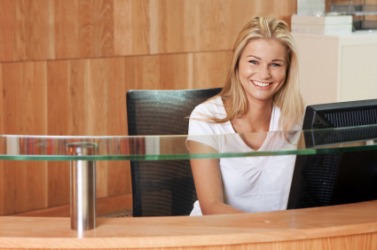 Receptionists
are a vital part of nearly all organizations. Generally they are responsible for all front line activities within the organization for which they work. Since they are the employee that often greets customers and talks to customers on a daily basis, receptionists are responsible for making a good first impression to represent the company as a whole. Determining the skills needed for a receptionist job isn't a simple task, since responsibilities will vary depending on the industry in which he or she works.
Although the skills needed for a receptionist job will vary slightly depending on the industry and place where you work, there are some commonalities. For example, the necessary skills to perform the job functions and responsibilities of a receptionist generally include answering telephones, taking messages, greeting visitors, faxing, emailing, delivering mail, completing paperwork, and filing.
Some employers may require some degree of experience in addition to a high school education. Furthermore, while typically a college education is not necessary, it can be helpful to have.
Other Key Receptionist Job Skills
Aside from your education, here is a list of skills that are required for you to possess in order to be a successful receptionist in any industry.
Customer Service: Good customer service skills are necessary in order to make a good first impression with customers, both in person and over the phone.
Organization: Receptionists typically work independently and their effective work is the key to keeping other employees in the office on schedule. Therefore, high organization skills are necessary to perform successfully as a receptionist.
Time Management: Since most receptionists work independently a majority of the time, effective and efficient time management skills are necessary to perform the duties of their job throughout the day.
Telephone Etiquette: As a receptionist, you will be required to answer phones, to take messages, to cancel appointments, and generally to be the front line representative to customers. Good phone etiquette is essential to make a good first impression to business customers. This is a necessary skill for both inbound and outbound calls.
Computer Skills: Receptionists are typically required to work with spreadsheets and other types of computer databases. Therefore, a necessary skill for most receptionists is to know how to use computer operating systems, as well as popular types of computer software, and to know how to use the Internet for research.
Active Listening: Receptionists must be active listeners at all times. They must possess the skill to be able to listen completely, wait to talk until what someone is saying is finished talking, and ask questions for further clarification.
Operating Office Equipment: As a receptionist, you will be expected to know how to use many different types of office equipment. This includes multi-line telephones, fax machines, copiers, and computers. Sometimes the use of specialty office equipment is required also and will be taught through on-the-job training.
Information Relay: Often the receptionist is a go-between for employees and helps to relay information or acts a go-between for employees and managers. Therefore, it is also necessary that you have the ability to relay information accurately from one person to another, regardless of their seniority in the organization.
If you want a good career and a great deal of job flexibility, and you have these skills, being a receptionist may be the perfect job for you.
source : http://answers.yourdictionary.com/answers/jobs-education/what-are-the-skills-needed-for-a-receptionist-job.html